Sábado, 26 de Julho de 2008
Aqui ficam fotos da convenção onde foram os actores Dominic e Sarah.
Grandes profissionais :)
credito/credit to : swc.org
 
No dia 25 de julho mais proprimante ontem houve a convenção de prison break.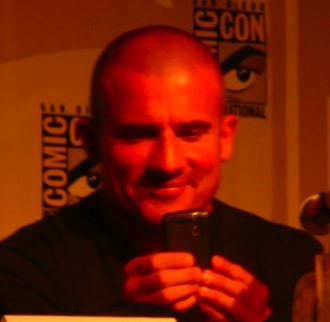 Foi anunciado que o elenco de Prison Break iria fazer a sua primeira aparição na pessoa-a deste ano na convenção  San Diego Comic-Con.
os nomes que se queria ver: Dominic Purcell, Sarah Wayne Callies e,o  mais importante de todos, Wentworth Miller. Varios fans do actor ,  Wentworth estiveram na convençaõ , poix queriam ir vê-lo em pessoa. Então, eles apresentaram os primeiros dez minutos ou assim a quarta temporada de estréia.
Por último, o momento da verdade, o elenco ea equipa chegaram 
O produtor executivo Matt Olmstead, houve Sarah Wayne e Dominic ... e que era do went.
Wentworth Miller era muito longe de ser visto, e perdeu o fôlego a multidão, muitos fãs de pé  sairam da sala mas  segundo Olmstead disse que Wentworth ficou preso em LA filmando .
Para lerem mais vão : aqui
Domingo, 29 de Junho de 2008
A convenção San Diego Comic-Con que é 1 convenção de banda desenhada k ocorre nos Estados Unidos vai  contar com os actores Wentworth Miller, Dominic Purcell e Sarah Wayne Callies k estão confirmados para marcarem presença na convenção que vai acontecer nos dias 24 a 27 de julho
The Big Bang Theory 10:15am - 11:15am
Stargate Atlantis 12:15pm - 1:15pm
Dr. Horrible's Sing Along Blog - Joss Whedon 1:30pm –2:30 pm
Ghost Hunters 3:00pm - 4:00pm 
also on Friday but without a confirmed time...  Family Guy, American Dad, Bones, 24 and Prison Break
credito/credit to : http://seat42f.com/site/index.php?option=com_content&task=view&id=2649&Itemid=9
Como ja tinha anunciado aqui no meu blog sobre a convenção de prison break k iria acontecer nos dias 13 a 15 de junho de 2008 em Londres que podem ver aqui ; deixo aqui as fotos k foram divulgadas no site tweety.
Podem ver os actores : marshall allman  e  Jodie Lyn O'Keefe
obrigada pela informação caty =)
creditos das fotos : Aqui 
Terça-feira, 27 de Novembro de 2007
No  mes de junho de 2008 vai haver a convenção de prison break em londres nos dias 13 e 15.
A convenção chama-se : Convenção  de Prison Break e Veronica Mars e vai ser no Hotel Thistle de Heatrow em Londres.
Na convenção irá o actor Robert Knepper (Prison Break) e tb a actriz Kristen Bell (Heroes )
Vai haver sessão  de fotos e autógrafos